Humans are inseparable from time and a wristwatch, apart from serving a utilitarian purpose of reminding impending appointments and compulsions throughout the day, also serves as an integral accouterment for a gentleman's sartorial excellence. A wristwatch not snugly settling on your wrist is not only a hassle but also an aesthetical sore in your overall appearance. When it comes to wristwatches, wrist size does matter. While there isn't a rule of thumb for the perfect size and shape for your frame, however, there are few tips that you can follow to ensure that you end up with a well-balanced and proportionate piece. Since a wristwatch is a significant investment and there are multiple factors to consider, such as the case size, band width, and design, apart from the feeling of looseness and tightness, we will help you figure out how to set about it.
No 1 Consideration-Wrist Sizes
The number 1 consideration to find the perfect watch for your wrist is your wrist size knowledge. Nature has endowed people with different wrist sizes and bone structures. Your wrist size may fall into one of the following categories: skinny, slender, medium, or thick. Which timepiece will snugly fit into your wrist without looking awkward depends primarily on your wrist size. If you have a skinny or slender wrist, then your body structure will be a petite one by proportion. Imagine wearing a thick, clunky metal watch on your wrist. Only the watch will be most conspicuous in your appearance. Similarly, if you have a thick wrist, you will not pull off a small watch in appearance and has a slim band. There are other considerations to choose from, like watch case diameter, thickness, band width, band material, and components. But you need to measure the circumference of your wrist first properly. Let's discuss tips to measure your wrist properly.
Tips to Measure Your Wrist
Take a measuring tape. Any measuring tape will work.
Make sure to unclasp your hand before measuring as unclasping your hand widens your wrist by a small but yet significant amount.
Wrap the measuring tape around your wrist so that the end of the tape is right in the middle of your wrist. Make sure to position the tape just below your wrist bone where your watch would generally sit.
Voila! You have measured the circumference of your wrist. If your wrist measures 6inches-7 inches, you have a fragile to medium size wrist. If your wrist size measures 7.5 inches and above, then you have a thick wrist.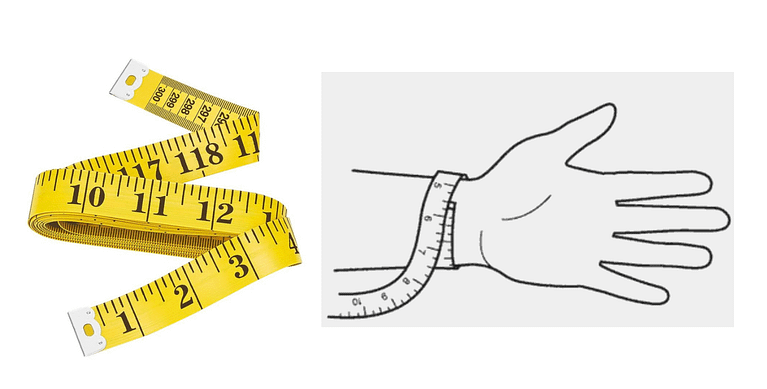 Key elements to consider for the Right Watch
Watch Case Diameter
A watch case diameter attracts the most attention and therefore is a significant consideration while purchasing a wristwatch. Generally, men's watch case diameters range from 38mm to 46mm. 38mm is too small, and 46mm is too large. If your wrist is in the range of 6 inches – 7 inches, select a small or medium watch with a case diameter of 38mm – 42mm. If your wrist size is 7.5inches and above, choose a larger case, such as 44mm-46mm.
Watch Case Thickness
As a general rule, always remember that watch case thickness and the case diameter are directly correlated. It means that as the size of the case's diameter increases, so does the thickness and vice versa. 38mm-42mm must feature a thickness of 7mm, and as the diameter of the case increases to 44mm and above, so does the thickness to 9mm or above.
Watch Band Width
The best-proportioned wristwatches boast a width that is half of the case diameter. Hence, if your watch features a 44mm case, it should have a 22mm band width. If you have a thin wrist, prefer a watch with a smaller band width. Similarly, if you have thick wrists, opt for a watch with wider band width. However, you may go with your personal preference while selecting a watch for this feature.
Watch Band Material
Band material may fall into the categories of Metal, leather, or fabric. Metal band watches with the same size as Leather or fabric may appear heavier and thicker. For a slender to medium wrist, chose leather or fabric band material to accentuate your appearance. Similarly, a metal band will be a more flattering choice for a thick wrist. However, this also is a personal preference.
Watch Details & Components
Watch details comprising hands, markers, crowns, and sub-dials, should also be considered while investing in a watch. As the sizes of these components grow, it gives the illusion of a big watch. If the watch's size is 38mm to 40mm and the details and components are too big, then the watch will appear ill-proportioned. On a small wrist, this kind of watch will seem off as well.
Conclusion
Hopefully, we have convinced you that what is good for the goose is not good for the gander. All of us are endowed with different wrist sizes and body measurements. If you want your timepiece fitting you snugly and accentuating your overall appearance, then remember the rules that we have already discussed with you in this article. To summarize the discussion above, we have summarized every watch element according to your wrist size below. May the time and tide be always in your favor!