There are some professions where time accuracy is important, yet at the same time, wearing a wristwatch is not suitable. This situation creates a dilemma. The Wonolo luminous face fob watch is the solution to this problem. This watch has a carabiner clip that allows it to get easily attached to a stethoscope, a backpack, or a belt.
This makes it suitable for nurses, hikers, mountaineers, and other sports. This quality, along with its stylish design, makes it desirable by everyone.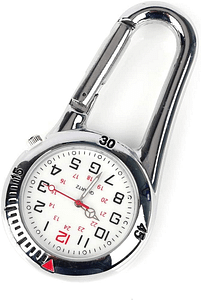 Design
The case of the watch is round and has a silver color. The dial which is inside the case is white in color and has black prominent markers. All the numbers on the dial are also in black except digit 12, which is in red color. These prominent numbers allow for easy reading.
The remaining body of the watch is of shiny silver color and has a carabiner clip. All these components together make this watch a well-structured one.
Features
Unisex: The design and structure of this watch make it unisex. Its look is neither feminine nor masculine, due to which both men and women can use it. So not only nurses but other medical professionals can also use it.
Securely attached: The clip of the watch is sturdy and thus helps it to get securely attached. It doesn't fall from the stethoscope or the backpack easily. This makes it suitable for nurses and as well as hikers. They don't have to worry about the watch to fall.
High-Quality movement: The watch has a high-quality Quartz movement, making it suitable for professions where time accuracy is essential.
Ideal Gift: This watch is well-made. It is suitable for many professions. It includes features needed by nurses and hikers, making it an ideal gift for them.
Easy to read dial: The face of the watch is large. Its color is white and has black pointers on it. All these factors together allow for easy reading.
Face Glows in the dark: The dial of the watch glows in the dark. This helps make it suitable to be used by people who work during night shifts, such as nurses and other medical professionals. It is also useful for hiking when it is dark.
Solid Look: This watch is well constructed and is made of Alloy. This gives the watch a solid look.
Product Details
Brand Name: It belongs to the brand Wonolo
Product Dimensions: The product dimensions are 8.5 x 5 x 1.9cm
Item Shape: The shape of the item is round
Display Type: The display type is analog
Movement: The watch includes quartz movement
Other Features: The material is alloy
Frequently Asked Question
How is this watch attached?
This watch has a carabiner clip that can be attached to the shirt, backpack, stethoscope, or the belt.
Does this watch include a battery?
Yes, this product includes a battery. The battery it uses is CR2.
Does this product keep time well?
Yes, the watch uses Quartz movement and helps to keep time well. So, this makes it suitable for people who require time accuracy.
Does the face glow in the dark?
Yes, the dial of the watch is luminous. It starts to glow when lights go off.
Does this watch have an alarm facility?
No, this watch does not include an alarm facility.
Is this watch easy to use?
Yes, this watch has a different look due to its carabiner, but it works in the same way as other fob watches. Just attached it to a stethoscope or a backpack, and you will not need to use your hands.