A Fob watch is a watch that has a chain or a ribbon attached to it. It is used as an alternative to wristwatches as it can be attached to a vest or a pocket. This prevents the watch from being dropped. It is present in a variety of forms. It ranges from simple watches to highly decorated ones.
History:
Fob watches go way back in history, and it was the first timepiece that the public could own. However, only the rich could afford a fob watch, and it was a status symbol in society. A person's position was determined in the community by the fob watch he used to carry.
It was introduced in the 16th century. In the beginning, the fob watch was unhandy, and people used to wear it as a necklace. It was developed and modernized over time, and by the 17th century, they had rounder and slimmer cases, and much more crafty designs were made. In the 18th century, diamonds and other jewels were added to pocket watches.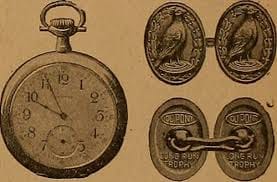 Fob watches became the most popular in the 19th century, and watchmakers became popular brands such as Heuer, Minerva, LeCoultre & Cie, Ulysse Nardin, etc. Fob watches were treated as a precious entity and were passed on to the family as heirlooms. These were made of different materials such as gold, silver, platinum, and brass. Special pockets were made in jackets or vests for the accommodation of the pocket watch.
Fob watches are not standard in modern times as the wristwatch superseded them. It remained popular among men as wristwatches were considered more feminine. The Fob watch evolved in the 16th century when Charles II introduced waistcoats to the masses. At that time, watches need to be saved from exposure to the material, and hence they were kept in pockets. In the year 1610, glass was added for protection. They thrive in America in the mid-eighteenth century.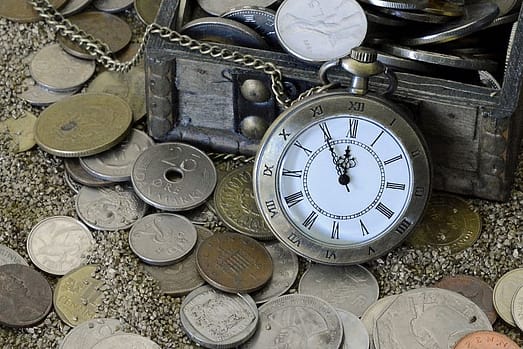 It lost its popularity during World war 1 when officers realized that it is far easier to carry a wristwatch than a pocket watch. Even after losing their popularity, they were still used in railroads. It is still used as a fashion accessory. It is also widely popular among nurses and offered referred to as nurse watch. Moreover, it is also used in sports such as swimming and mountaineering. It is also collected by antique dealers or people who are passionate about watches. Nowadays, the Fob watch has transformed into a more modern and feasible form.
Materials used for making Fob Watches:
Fob watches are made of different types of materials, depending on who will use them. Materials commonly used for fob watches are silver or gold, ribbon, thread, leather, plastic. In the Victorian era, boars or even braided human hair were used for making fob hair.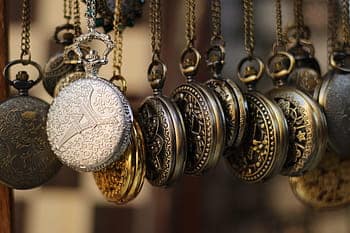 Features of a Fob Watch:
It has a chain or ribbon attached to it.
The clock inside it is upside down, so it is easier to see the time.
It is made of different materials.
The more uncomplicated fob watch has a clip attached to it for tucking it into the clothes.
It can be attached to a waistcoat, stethoscope, lapel, or belt loop.
Use for Nurses:
Nurses most commonly use fob watches. This is the reason they are often referred to as "Nurse Watches." Anyone who works as a healthcare professional will understand how hands-on it is to be a nurse. Hygiene and time accuracy are the two essential characteristics of being a nurse. But they cannot afford to wear accessories. So, a fob watch offers the solution to this problem. A fob watch can be attached to the uniform easily and helps to keep the hands free.
This helps the nurses in a variety of ways. Firstly, it helps them to keep accurate track of time. Following a proper record of time is an essential element of the healthcare profession, especially for nurses. Using a fob watch, they can attach it to their uniform and use it for the whole day. Also, most fob watches made for nurses have an internal light mode in their dial, which helps to read in the dark, making it apt for night shifts.
Secondly, a fob watch can be tugged into the uniform, minimizing the risk of catching germs. Nurses have to work for the whole day with patients with different kinds of diseases, some contagious. Wearing a wristwatch is difficult for them because it increases the chances of catching different viruses and bacteria and carrying them along. A fob watch, which is easily tugged to the uniform or the stethoscope, avoids the risk of catching these contagious germs.
Furthermore, they can wash their hands frequently as they do not have a watch on their wrist to worry about. While working in the hospital, nurses have to wash their hands again and again. Wearing a wristwatch can irritate when somebody has to wash hands regularly. Thus, a fob watch makes it easier for nurses to maintain their hygiene. Furthermore, it helps to take pulse and respiration rates. It also adds to the individuality of the uniform. Thus, it makes for the perfect gift for a nurse or any other health professional. At one point in history, fob watches were a mandatory part of nurses' uniforms, but now it is optional.
Special Features of a Nurse Fob Watch:
Due to their usage by and popularity among nurses, several watches have inbuilt features for helping health care professionals, especially nurses. These watches have a small clip attached at the back of the watch. So, they can be attached to the uniform or the stethoscope. This makes it easier for the nurses to carry the clock, keeping their hands free. In this way, they can work efficiently and would not lose the watch.
Also, the watches specially made for nurses are lightweight, so they do not fall from the uniform while working.
The watches have a bigger dial, which has Arabic letters inside of them. This makes it easier for them to read it. Also, these watches often have a glow pointer in the dark. This way, they could read the clock in the dark. This makes it more feasible for night shifts. Most of the fob watches are water-resistant. They can bear water splashes without getting affected. In this way, nurses can easily wash their hands whenever they can without worrying about the watch getting affected. Furthermore, some watches have a dial detachable from the case, which makes it easier to sanitize. In this way, they can prevent getting infected by viruses and bacteria. All these unique features make the fob watch a perfect gift for nurses.
Famous brands of Nurses Fob watch:
There are many Fob watches available in the market. Some of the famous brands that make reliable Fob watches are as follows:
Use in Sports:
Not just health care, but Fob watches are also used for mountaineering. It is a sport where time accuracy is essential, and wearing a wristwatch is not suitable as there is a risk of breaking it. They are made differently than the nurse fob watch. They have a carabiner attached to them, which makes it easier for mountaineering. It is also mostly made of durable metals or rubber, making it easier to carry and use. Hence, a fob watch is the most suitable choice for mountaineering.