Lapel design fob watches are preferred by people who are looking for an elegant design with sturdy quality. UEOTO brand provides for this combination. If you look at the other products, these brands all serve one common purpose: providing comfort and making daily life tasks easier.
The UEOTO brand fob watch also serves this purpose. It's easy to carry along with its elegant design and makes it an ideal choice for nurses.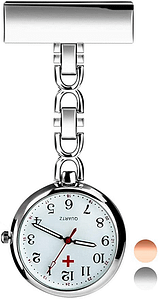 Design
The watch has a round-shaped case with a white dial and black markers. The case is attached to the lapel through a long chain. And also has a stainless steel back. All these components make it an elegant-design watch and an ideal choice for nurses.
Features
Easy Reading: The watch's glass is ultra-clear, which provides optimal light penetration for easy reading. Also, the dial's size is big, and the colour is white with prominent black markers. Due to all these features, time can be read with just a glance.
Clip-on design: The watch has a clip-on design, and due to this, it can be easily attached to the fabric. Does not get damaged easily. On the other hand, wristwatches can easily get damaged.
Ideal gift for nurses: Due to their hectic routines and workload, Nurses cannot afford to wear wristwatches. This watch has a clip-on design and hence can be easily attached to the uniform. The dial is also upside down elegant design, can count respirations easily, and has a second hand.
Product Details
Brand Name: It is a product of UEOTO brand.
Product Dimensions: Total length is 8.5cm and the case diameter is 3.3cm
Item Shape: The shape of the item is round
Display Type: The display type is analog.
Movement: The watch has imported precision quartz movement, that is, Japanese quartz
Other Features: The material of both the chain and case is alloy
Frequently asked questions
Is the watch waterproof?
The watch is only life waterproof, which means it can bear water splashes while washing hands or the face but cannot be soaked into water and is not suitable for swimming or diving.
Does the product include a battery?
Yes, the battery to be used is included with the watch. Also, it can be easily replaced once it's dead.
Does the watch have good quality movement?
Yes, the watch has a Japanese quartz movement which adds to its reliability.
Is the watch luminous?
No, the watch is not luminous