We are all familiar with the name Ravel. This brand has a variety of products for both men and women. Not just that, it also offers different designs of nurse watches. Ravel Belt Clip Watch is one of the categories of Ravel nurse watches. This watch is an alternative to the classical nurse watch as it is designed to be worn on a belt or a backpack.
This feature makes it a popular watch among nurses. Although it is a part of the Ravel nurse collection, it can be used for several other purposes such as traveling or outdoor sports.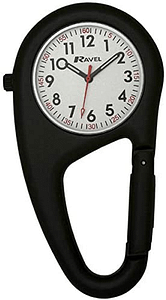 Design
The watch has a sturdy carabiner clip with a white dial having prominent black markers, also including a second hand. This clip gives the watch a unique style. The dial window material is glass, of the case is brass with a diameter of 25 millimeters and a thickness of 6 millimeters. The band material is Stainless Steel with a width of 30 millimeters, and the clasp type is tanc buckle. On the back of the watch, the brand name, model number, CE mark are mentioned.
Features
Clear white dial with Bold black numbers: This feature of the Ravel belt clip watch allows reading time quickly and clearly. A nurse cannot afford to waste time by looking at the watch repeatedly if somebody needs to be taken care of. With a clear dial and bold markers on it, time can be watched quickly and easily.
Battery Life protection: All Ravel watches have a crown stopper, which helps to protect battery life. Battery protection is an important consideration while buying a watch.
The clip is much more practical than the pin: The watch's clip makes it easily attachable to the backpack or the belt. This feature makes it useful for tasks to keep hands free, such as gardening and mountaineering. This is specifically important for nurses as they have a lot of work to do, and their hands are never free. This is better than the pin as a pin can be attached to the uniform or a shirt only while this clip can be attached easily to a shirt, a belt, a backpack, and without the fear of falling.
Luminous hands and markers: The watch has luminous hands and markers. These are conventional type markers, and to charge them, they need to be exposed to the light. These luminous markers help to see time in the dark clearly.
Product Details
Brand Name: The product belongs to the nurse collection of the famous Ravel brand
Product Dimensions: The product dimensions are 12 x 5 x 2 cm.
Item Shape: The shape of the product is round
Display Type: The display type is analog with big markers and also a second hand.
Movement: The product has the Quartz movement which adds to its quality.
Other Features: The dial window material is glass
Frequently Asked Questions:
Does this product come with a guarantee?
Yes, this watch by Ravel comes with a 12 months manufacturer guarantee
Does this product include a battery?
If yes, then which one? Yes, the battery is included with the watch and it is 377.
Does this watch have a calendar date function?
No, this watch doesn't have a date function.
Is this watch heavy?
This watch is slightly heavier than the other pin-style fob watches.
Is the battery replaceable?
Yes, the battery is easily replaceable.
Has it got an alarm facility?
No, this watch does not have an alarm facility.