Lancardo is a famous and loved brand of watches. There are a variety of watches available for men, women, and even children. The category of watches in which the brand deals are fashion, luxury, and casual. It also has a huge variety of fob watches, one of which is the nurse fob watch.
The design and features of this watch are most suitable for nurses. What makes this brand special is the variety of options it provides for the customers.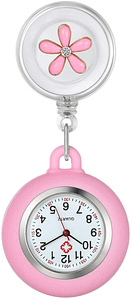 Design
The silver-coloured case with a steel backside is folded in a removable covering of pink colour. The pink covering is easily removable. The case is attached to a clip with a retractable rope. The clip is held by a cover that has a flower pattern on it.
The dial is white and has black markers and numbers. The second hand of the watch is red. All these features together give this watch a beautiful look.
Features
Clip-on hanging: This watch contains a clip-on hanging, which helps to attach to the uniform securely. This is better than the pin as it does not damage the clothes.
Easily clean silicone cover: Hygiene is an important part of working in healthcare. The case of this watch can easily be separated from the silicon covering and be easily washed. This makes it suitable for nurses who get in contact with germs a lot because of their work.
Retractable rope: The retractable rope of this watch makes it easy to read the time. The rope can stretch as far as 80cm. The dial of the watch is already upside down. All this helps in easy reading. This is specifically suitable for nurses as due to their busy routine and work overload, they cannot watch time again and again.
Large Arabic markers: The large Arabic markers are easy to read. This helps nurses to watch time by just a glance.
Living water resistant: The watch is living water-resistant. It can bear splashes of water. This is particularly suitable for nurses and health care professionals as they have to wash hands, again and again, the whole day.
Beautifully crafted flower pattern: Due to the beautiful flower design, the watch looks elegant and helps to get attention immediately.
High hardness glass: The glass used in this watch is hard making it difficult to break.
Product Details
Brand Name: It belongs to the brand Lancardo
Product Dimensions: The product dimensions are 0.39 x 0.39 x 0.39 inches
Item shape: The shape of the item is round.
Display Type: The watch has analog display type
Movement: The movement it uses is quartz.
Other Features: The watch has a maximum stretching length which is 80 cm
Frequently Asked Questions
Does this product include a battery?
Yes, this product includes a battery. The battery type it uses is LR44
Is this watch waterproof?
This watch is only living waterproof, which means that it can bear water splashes, but it should be prevented from getting soaked into water.
How well does it keep track of time?
This watch has a high-quality quartz movement, which allows for accurate time reading. Particularly for the nurses, this helps them keep track of time. Also, there is a second hand in the watch that helps to check pulse rate.